Shopping Cart
Your Cart is Empty
There was an error with PayPal
Click here to try again
Thank you for your business!
You should be receiving an order confirmation from Paypal shortly.
Exit Shopping Cart
Every single day, I always prayed to my heavenly father to bring my Dad back and to help my mother who was still sick. My family was not complete as dad was not with us. I lived with my mom at home, just the two of us. My father had not been with us and I didn't know if he was still alive. Everyday I asked my mother to stay strong. Every minute, I cried and prayed with all my heart.


My mother was getting worse, and I didn't have enough money to pay for her medical bills. One day, Mom said to me, "Pray to him with all your heart and he will listen to you."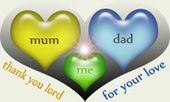 I told Mum that she would finally get better anytime, but she answered me that she might not survive. I cried and said to God, "Why is this happening to us? I have prayed to you and begged you but you still don't listen to me." I thought that praying wouldn't work. My mother then told me that one day my father would return, if I continued on praying. So I kept on praying and begging to God.


About a week after that, my mom finally got well and my father was back. I was very happy. It was the most important day in my life, my family was complete. I prayed to God and said, "Thank you Lord for the care and love to my parents."


Note:- Story created by Mwaere Mwanuera (Form 3B student) in her English Self-Assessment Test.
Categories: Students Stories
/