Shopping Cart
Your Cart is Empty
There was an error with PayPal
Click here to try again
Thank you for your business!
You should be receiving an order confirmation from Paypal shortly.
Exit Shopping Cart
Many homes in Kiribati have coconut hand brooms! Why? It's simply because the item is very useful for keeping the inside of the houses clean as well as removing dust and dirt. Other uses of this broom (apart from sweeping) includes chasing off insects, selling, reaching and dragging far objects, decorations and can sometimes be used for whipping naughty kids at home :-)


Before we jump into the process of making this special type of broom, you may wonder why it is being called hand broom. It's because you hold it in your hand as you use it. It doesn't need a handle at all. Everything about it (weight, length, shape) is locally designed for your hands only. ... Okay, let's begin.

Things Needed:
1) string (about 10 meters long)
2) veins (middle fiber) of coconut leaflets
3) knife


7 Simple Steps:
1) cut one mature green coconut leaf from the coconut tree (dry leaf could be used instead – if you do then jump to step 3)
2) put the leaf out in the sun to dry (3 days at least)
3) when the leaf is dry (it should now have turned brown) start removing the veins from the leaflets
4) pull the veins off the leaf and start cleaning them with the small knife
5) put all the veins in one bundle then grab and hold it in your hand
6) start tying string around the bundle of veins – begin closer to the bottom parts and go downwards until you have covered the hairy end tips of the veins
7) tie a knot firmly at the end and cut the remaining hairy tips if needed


That is all you need to do! If you have any questions regarding the steps, please don't hesitate to post in the comments. In addition, the image below is added to further clarify the major parts of the process.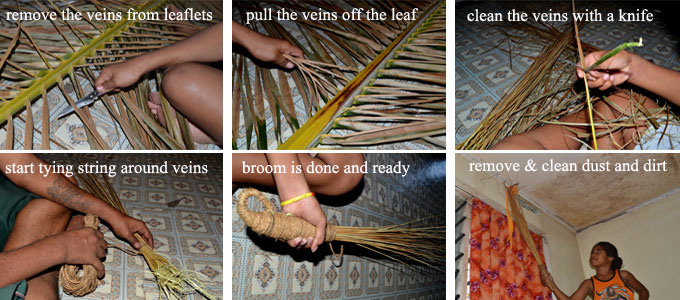 Categories: Culture & Custom
/