Shopping Cart
Your Cart is Empty
There was an error with PayPal
Click here to try again
Thank you for your business!
You should be receiving an order confirmation from Paypal shortly.
Exit Shopping Cart
There are several different types of baskets that IKiribati can weave from the coconut leaves including bwaabwa, kabiaua, abein, bengabenga and more. This is so since baskets are indeed useful and handy domestic items which we can easily make from plenty of coconut trees growing around us. These baskets differ in their shapes, structures, uses and durability. Further, some are easy to make while others require advanced weavers to make them. Each basket is woven differently therefore if someone wants to be able to weave all these kinds of baskets, she has to know the required skill for each basket.

'Bengabenga' is the name of one of the local baskets listed above. It can be easily identified from the rests due to its open ends and flexible build of being folded or flattened. Its shape and design is best suitable for holding and carrying straight objects such as sticks, leaves of pandanus and firewoods. It can be used also as a temporary sitting mat and wall due to its ability to being flattened. Like other baskets, it is light to carry and move around. It's not as strong and durable as the other types of baskets, thus it can serve you for a year or so.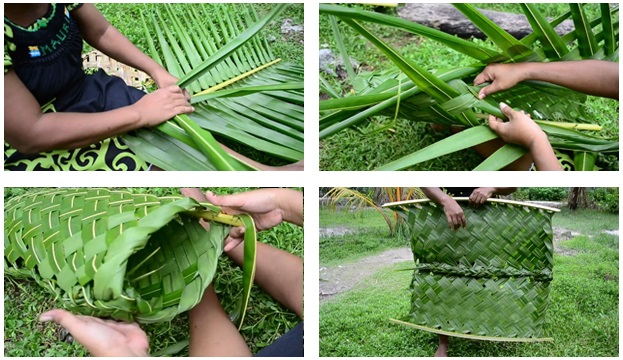 Weaving the bengabenga is faster and easier than weaving the other baskets namely kabiaua or abein. The latter aren't only more complicated to weave but the preparation of their raw materials (mainly coconut leaves) consumes more effort and time. Luckily, all that you need in order to make the bengabenga are just the green coconut leaf and a knife.


In our culture, it is reasonably important that grown-up ladies know how to make this kind of basket as they are the ones expected to learn and perform this job. If you are one of those who still have not learned nor mastered this particular weaving skill, then this might be a great opportunity for you to learn as we're going to show how to do it. Just watch and follow the whole process presented in the attached video made specifically on this subject. All the best and congratulations on making your first bengabenga!


How to weave a bengabenga

Things needed:

- coconut leaf

- knife

Process:

Click the following link to watch the process on Youtube: https://youtu.be/MdGhm-FZ6hg




Categories: Culture & Custom

0

/